Post by dawsonsjs on Mar 12, 2023 9:16:31 GMT

New York Stadium Tuesday 14th March 2023 KO 7.45pm
Recent History The club has been very much up and down between the Championship and L1 in recent seasons . In the 20/21 season, the Millers were promoted back to the Champ. as runners-up, defeating Gillingham 2–0 on the final day of the season.The club also won the21/22 EFL Trophy at Wembley after defeating Sutton Utd 4–2 after extra time. Early in this season, manager Paul Warne departed for Derby being replaced by Exeter boss Matt Taylor after long serving cb , Richard |Wood, had taken over for a period.
The loss of Warne was a blow to supporters..he was well liked for staying with the club and turning down offers from elsewhere albeit there was a feeling he had taken the club just about as far as he could. Following his departure results initially went into decline but then improved before hitting the current level of improvement at home.
Last 5 home results
W 3-1 v QPR
W 2-1 v Sunderland (a Tuesday night match)
L 0-2 v Coventry
D 0-0 v Blades
W 4-0 v Rovers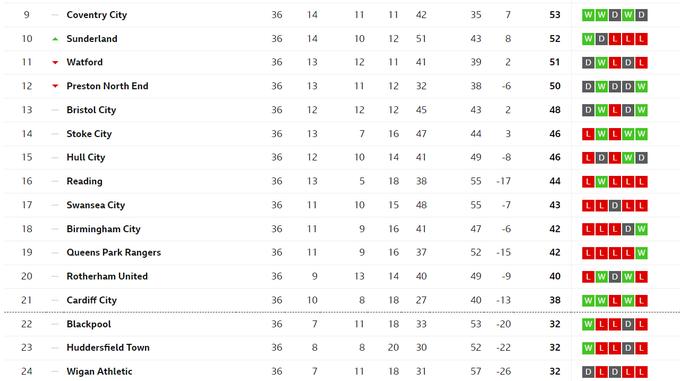 Player to watch: Jordan Hugill, signed on loan in the last window
The Stadium In January 2010 the club announced that their new stadium to replace Millmoor, later named the New York Stadium, would be built on the former Guest and Chrimes foundry site in Rotherham town centre The foundry produced the fire hydrants for New York back in the 19th C that are still in use , hence the somewhat tenuous naming.
Although the ground has a capacity of around 12,000it is my favourite small ground (and it was designed in such a fashion that the roof can come off for expansion should it ever be required). Inside the ground it is quite steep sided and the viewing position everywhere is as good as it gets. Sound is also amplified so there can be a decent atmosphere.
The ground was used for the Women's Euros last year because of its standard.
Commercial Activity (are you watching PR?)the naming rights to the stadium are currently owned by local multimillion-pound company AESSEAL.The club's principal sponsor is IPM Group and Asura which features on all the playing kits. The training wear has a separate sponsorship with Guardian Electrical appearing on all training and leisure wear. All kit is made by long term sponsor Puma which has worked with the club for over 10 years..
Getting there It is an easy run from Preston...at least most of the time ...over the M62 and down the M1, come off at Meadowhall, turn left and keep going until you see the ground or old ground pylons on your right, Drive towards and park where you can. Just hope the weather is better than Saturday night when I dropped down the M62 into Yorkshire and and into a blizzard. Allow 2 hours and a 15 mins walk from parking if coming from work.
The match forecast …...who knows? . I don't recall us ever winning at the New York and I have no doubt that we are in for a tough game against a team that is very much together, fighting for its Champ status and of late generally succeeding at home. They will be seeking to bounce back after a poor performance away at Brum on Saturday. Only thing that's certain is it won't be pretty.