Post by Mooney on Oct 19, 2022 7:41:42 GMT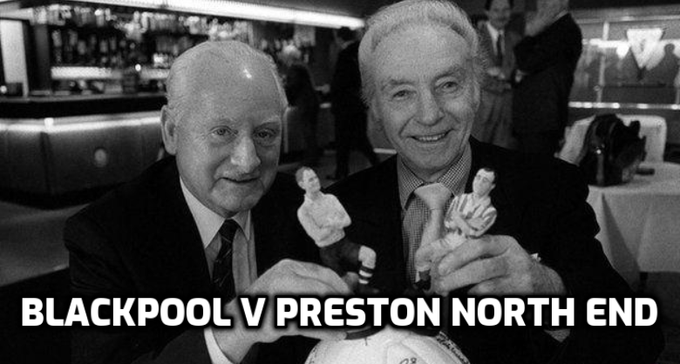 I've seen on Twitter this game referred to as 'our Cup Final'. Rovers fans say the same when we play them, as do Wigan, hilariously enough. But this one? Yes - for me it IS our Cup Final, and it's also Blackpool's. All over Central and West Lancs, moods will be determined in those 90 minutes and weekends made or ruined. For me, the 'hatred' aspect is all too tribal and petty and it saddens me to see kick off times moved, policing increased etc, just because a small minority wish to stamp their authority on an occasions and to be over aggressive and hostile about it.
Anyway, my number one hope for Saturday is that the game goes ahead and there are no incidents with crowds, policing and innocent people getting dragged into a negative situation I hope the police show some sense this year. Second hope is, of course that we win the game, preferably by 3 or 4 goals!
The Opposition
I usually identify a key man for the opposition and today is no different. The key man is the one in the dugout, the man with PNE tattooed across his chest. Once PNE's record signing for £500,000 (remember those days when we sold Kilbane and bought Appleton, Macken and Murdock with the cash...), Appleton has had a strange career as a manager so far, and is in his second spell as manager at the seaside. For some reason we walked out after about 5 minutes last time to set up a chicken farm in the hills, but he seems to be sticking around this time. He's got a tough job in many ways, as the tools at his disposal aren't quite sharp enough for the required task (sound familiar PNE fans?). And yes, by tool, I am of course referring to Gary Madine. If he plays on Saturday, and Greg Cunningham is at CCH, we'll see how well equipped Greg is to play against a big donkey centre forward in that position. Speaking of big donkeys... no I'll do PNE news later. The two teams have not had the greatest start to the season and Blackpool are really unpredictable, so the battle between the two managers will be crucial. Whoever gets the tactics right on the day will win.
In honesty, I know very little about the Tangerine's Players - the names are all familiar, Husbands, Yates, Lavery, Ekpiteta etc, so they have a core of decent players at League One level. The one to watch is probably Rhys Williams. He's a PNE supporter who's on loan from Liverpool. I don't know how good he is really, but I know he's slow, so slow that even Evans may have the pace to beat him!
PNE
We spend so little time on our own team on these threads, but here's my take on the PNE team and what the line up will be.
Goalkeeper - Woodman - Mr Clean Sheets (unlike the Blackpool keeper who apparently had issues keeping his sheets clean when he was at PNE... but let's not go there)
Defence - Lindsay is seemingly out for a while, so is Bauer, so the '2 players for each position' mantra is a bit knackered...
CH - Greg Cunningham - I expected Hughes there on Tuesday, but Greg played there and did a great job. Can't be dropped, but for me the power of Diaby could be needed against Madine. I expect Greg to play.
RCB - Storey - another strong showing on Tuesday, he's developing well
LCB - Hughes - Again, no concerns over him
RWB - Potts - Got to play Pottsy in the derby (no jokes about Donkey Derby thanks)
LWB - Alvaro - A ha... he's going to love the big derby day atmosphere. I reckon he's going to be on the golden mile after with a kiss me quick hat on, eating rock and candy floss
CM - Whiteman, Ledson, Browne - I'd play the two CDMs, but bring back Browne into the CAM role. McCann looked a bit leg weary last night and if anyone wants to beat Blackpool it's Browne. Interesting stat from Ledson yesterday on the club website interview...in response to how well him and Whiteman play as a pair. 'Well, we haven't lost when us two are in there. In fact, we haven't conceded a goal when we've both been on the pitch'. He did go on to say how much they enjoyed playing with each other, but I'm not commenting on that.
CF - Maguire and Riis
I've been impressed with Riis of late, his movement off the ball is good and he's been winning more headers, retaining possession well and generally looking sharp. I'd play Maguire alongside him, although there's a big part of me thinking that giving Cross-Adair his first start in this game could turn out to be a masterstroke! Despite the fact we're at the beach, I'd not be playing Evans - he'll be too busy giving rides on the beach. Hmm...think that sounds a little close to the bone, but never mind.
Predictions
Obviously going to predict a Home Win - my predding skills are awful, so doing this works in the favour of PNE. Other predictions:
1) First booking - Ben Whiteman
2) Time of first goal - 6 minutes
3) Time of first refrain of 'I want to go home', 25 minutes
4) Time of first PNE sub - 82 minutes
5) Likelihood of RL using the phrase 'wasn't for a lack of trying' - 100%
Blast from the past
I'll leave this here.